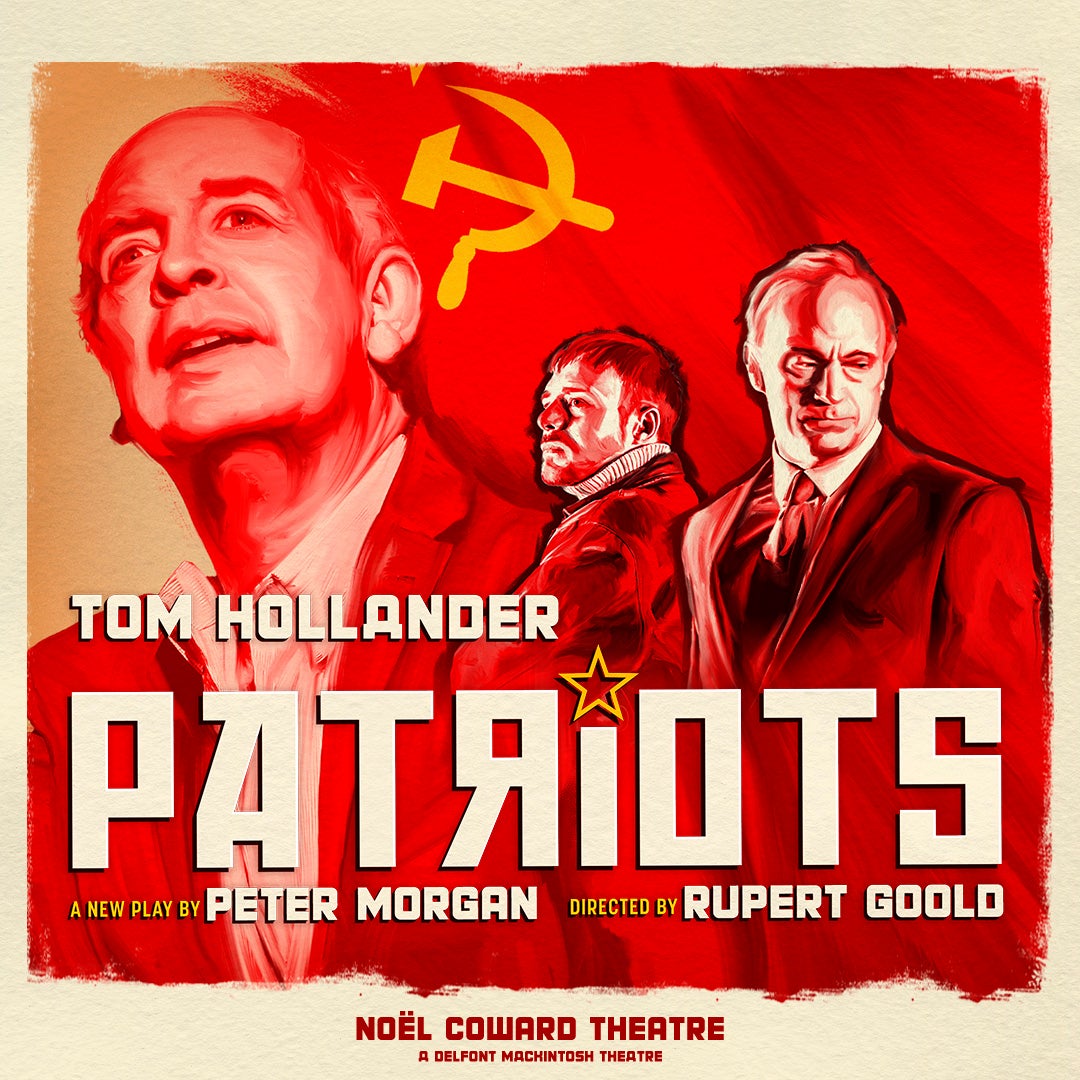 Call :phone to book directly from the theatre or Subscribe
Booking from
Friday, 26 May 2023
Booking until
Saturday, 19 August 2023
Running time
2h 40m (incl. 1 interval)
Performance Times
| Mon | Tue | Wed | Thu | Fri | Sat | Sun |
| --- | --- | --- | --- | --- | --- | --- |
| - | - | 14:30 | - | - | 14:30 | - |
| 19:30 | 19:30 | 19:30 | 19:30 | 19:30 | 19:30 | - |
Patriots
When things fall apart, politics becomes a lethal game. The year is 1991 and the USSR is dying. Officially the Union of Soviet Socialist Republics, it had dominated the region since 1922, a flagship communist state. The dawning of a new era and a new Russia saw some people win and others lose. You might be a patriot today, but by tomorrow you could be treated like a traitor. As a new generation of oligarchs fights to control the new country, the play follows the billionaire businessman Boris Berezovsky as he slides from a top position in Russia's inner political circle to a hated figure, public enemy number one.
This is a powerful new play from Peter Morgan, who gave us TV's The Crown, and Frost/Nixon. Transferring to the West End for spring 2023, it's directed by the Almeida Artistic Director Rupert Goold, who directed the excellent Ink and Spring Awakening. The BAFTA-winning actor Tom Hollander, of The Night Manager and Travesties fame, reprises his role as Boris Berezovsky, the 'kingmaker' who helped make Vladimir Putin into the leader he is. Will Keen reprises his role as Putin himself, and Luke Thallon plays the former Chelsea Football Club owner Roman Abramovich. It's perfect for people who adore a satisfyingly dramatic and dark political play.
Audience Latest Reviews
Reviews Summary based on 17 reviews
General:
What to expect
Acting:
Music:
Costumes:
Story:
Lighting:
Recommendations
Anyone:
Families:
Teenagers:
Young Couples:
Theatregoers:
Informative
I couldn't hear the two main actors' voices properly from Row P. They should speak up a bit, especially for foreigners to understand better. But their voices should have been more clear for anybody, with or without hearing or language problems.
Vania, 09 Aug 2023
So much food for thought!
Wow, going to take days to process what we saw, learned, surmised from the show. Magnificent acting, great story, so well done!
Jo, 02 Aug 2023
Superb
Amazing story, outstandingly acted. Great set, brilliant lighting & a fantastic script.
Pippa, 25 Jul 2023
Educational
It was quite informative about Putin and the people surrounding him. How he became President and how he treated the cronies/supporters surrounding him if they did not agree with him.
Lauren, 21 Jul 2023
Brilliant
I came to watch this with a friend on a whim and absolutely enjoyed it. Tom Hollander was brilliant as BorisB, as was the actor who played Putin and the entire cast. I highly recommend to any theatregoers.
Temi, 17 Jul 2023
Breath-taking show!
The acting, the music, and unremarkable scene transitions,Very seamless! Worth it 👌🏽 ✨️
Naomi, 13 Jul 2023
History lesson
I liked it because it reminded me of that period and consequents.
mina, 13 Jul 2023
Best thing I've seen in ages!
The cast are outatanding. What a production!
Mhairi, 10 Jul 2023
Very good and thought provoking
Well written, and brilliant acting - authentic. Thought provoking and moving.
Seona, 27 Jun 2023
Best play in the West End.
Interesting true story and totally in the actual world of politics. Tom Hollander magnificent acting.
Pilar, 26 Jun 2023
Outstanding
Outstanding show. The story is very powerful and sad, but so true . I lived I Russia in 90s and this show really captured the atmosphere and all realities of that time. Show submerged you into dynamic and fast changing life post perestroika years. Loved how true Russian soul has been shown in Berezovski with amazing music by Vysotski. Loved every moment of it. Brilliant performance by the cast. Can't recommend it enough.
Oxana, 18 Jun 2023
A great night out
A review of the historical events that lead up to the current day political structure in Russia. Very informative and entertaining. One feels one has learned or been reminded of events that took place over a number of years and how they inter relate
Henry, 14 Jun 2023